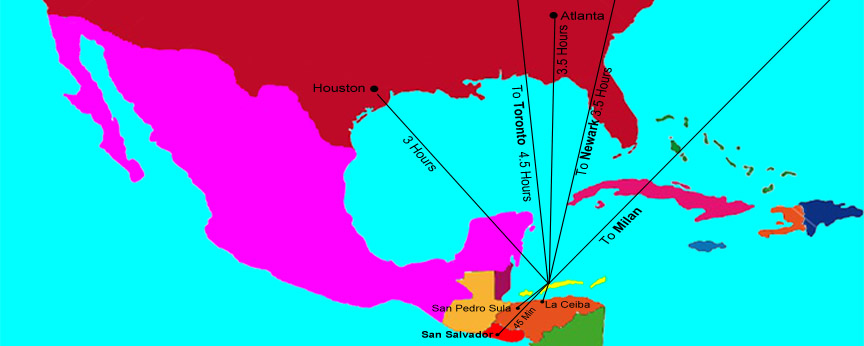 Roatan is much easier to get to than it used to be. The Roatan International Airport has daily flights to and from the mainland of Honduras and international destinations. The easiest way to travel to Roatan from the USA is to fly directly to Roatan on Continental, Delta, or Taca airlines. It is less than a 3 hour flight from Houston! It is also very easy to fly into the city of San Pedro Sula on the mainland of Honduras and take a small commuter flight to Roatan. Please send us the dates for your vacation and city of origin and we will gladly help you find the easiest and most cost effective way to travel to Roatan.
From the USA and Canada:
United Airlines – flies directly to Roatan from Houston, Texas on Saturdays and Sundays year round. During high season (November – July) they also offer several mid week flights. United adds new flights regularly so please check the United Website.
Delta Airlines-Delta flies directly to Roatan from Atlanta, Georgia. Mid week flights are sometimes available during high season.
TACA / AVIANCA Airlines –Taca has recently started offering daily direct flights between Roatan and San Salvador, El Salvador. From San Salvador, TACA flies directly to Chicago, New York, Dallas, Miami, Houston, Los Angeles, San Francisco, and more.
Sunwing / Canjet – operate charter flights to Roatan from several major Canadian cities. Unfortunately, the flights are only available for a few months a year and can be difficult to book online. Please contact Sunwing or Canjet for a schedule and prices.
American Airlines – operates direct flights from Miami on Saturdays and Wednesdays and from Dallas, Tx on Mondays.
From the Mainland of Honduras:
Air: There are several small commuter airlines that fly between the Honduran cities of San Pedro Sula, Tegucigalpa, La Ceiba, and Roatan including Sosa Airlines, and Taca Airlines. Tropic Air has direct flights from Belize to Roatan several days per week.
Ferry: The Galaxy Wave runs twice daily ferry from Roatan to the coastal city of La Ceiba on the mainland of Honduras.
Getting to Utila
As there are no direct international flights to Utila, it is a little more difficult to get to than Roatan. But it's worth the extra effort.
From the Mainland of Honduras: Several Honduran regional airlines have flights from San Pedro Sula and La Ceiba to Utila. There is also a ferry that runs twice daily from La Ceiba to Utila.
From Roatan: There is a boat that leaves from West End to Utila several days per week. This is my favorite way to get to Utila. The schedule is not set and depends on weather and demand so if your dates are not flexible, this is probably not the best way to get to Utila.
Private Plane There is a charter company that has a small plane that can be hired for trips between the mainland of Honduras, Roatan, Guanaja, and Utila.
If there is something that you would like that is not listed above or if you would like more information, please contact us at info@caribbeancolorsroatan.com