Search Available Properties
Husky Hideaway (1st Floor)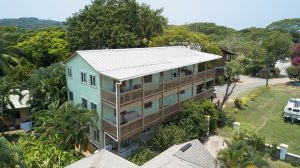 This three story building is located in a quiet, safe area of West End. The beautiful Half Moon Bay beach and "world famous" Sundowner's Beach Bar are just a 3 minute walk away.
Each floor is home to two large apartments.  This ground floor, spacious apartment is a one bedroom one bathroom and has a full kitchen, dining area, and living room. The kitchen has custom made cabinets, frige, stove (but no oven), convection oven, coffee maker, toaster, and a lot of counter space. The living area has a flat screen TV with cable, sofa, and love seat. The second and third floor units even have ocean views from the living room.  The ground floor apartments have AC in the living rooms and bedrooms while the second and third floor apartments have AC in the bedrooms. They all have fantastic breezes that blow through the units.
The bedroom has queen bed with comfortable mattress, a large closet, air conditioning, and ensuite bathroom. We do have a spare twin bed that can be put in the living area. The apartments come with everything you will need whether you are here for a week or a month. There is also a shared washer and dryer.
Rates
Winter (December 19 - April 15) from  $400 / week
Spring (April 16 - June 17) from $280 / week
Summer (June 18 - August 28)  from $320 / week
Fall (August 29  - December 18) from $280 / week
Holiday Rates from $500 / week plus electricity
Rates do not include electricity in order to provide a reasonably rate to everyone
Rates do not include 19% Honduran Room Tax
If energy aware and use A/C only at night, electricity should cost around $5-10/day
$300 Refundable Security Deposit required at check-in
A $10 per person conservation fee will be added to the rate