Penthouse at Mangrove Dock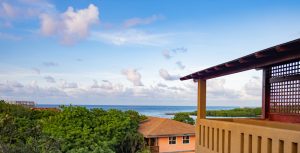 This penthouse condo is located on Mangrove Bight in West End. It is conveniently located in a safe, quiet area of West End and is just a short walk away from bars, restaurants, dive shops, and a beach. The 1800 square foot condo is on the top floor of the the rear building, Egret. It has a great pool view from the balcony. You can also see some water views from the balcony. The best views are found from the private rooftop terrace. This Balinese inspired 1800 square foot terrace has several gardens, lounge chairs, a dining area, a covered BBQ area, and a full bathroom.
The condo has 2 bedrooms, 2 bathrooms plus one on the rooftop terrace, a fully equipped kitchen outfitted with the best appliances, a laundry room, a huge custom made dining room table, and a comfortable living room with a flat screen TV and amazing views. Each bedroom has a king sized bed and a TV with cable. This spacious condo easily sleeps 6 adults.
Amenities Include
2 bedrooms with King beds
1 bedroom with Queen Bed
Air Conditioning
Balcony with water views
1800 square foot private rooftop terrace
Eco Friendly
Dock
Master bedroom has private bathroom and  glass doors onto balcony
Washer and Drier
Fully Equipped Kitchen
Cable TV in bedrooms & living room
Gas BBQ Grill
Swimming Pool with sunbathing / lounge area
Rates
Winter (December 2 – April 17) from  $1650 / week
Spring (April 18 – June 17) from $1200 / week
Summer (June 18 – August 14)  from $1500 / week
Fall (August 15 – December 1) from $1100 / week
Holiday Rates from $1750 / week plus electricity
Please contact us for discounts for stays longer than 10 days and long term rental

Rates do not include electricity in order to provide a reasonably rate to everyone
Rates do not include 19% Honduran Room Tax
Rates do not include cleaning fee
If energy aware and use A/C only at night, electricity should cost around $10-20/day
$800 Refundable Security Deposit required at check-in
A $10 per person conservation fee will be added to the rate
For reservations or more information, please contact [email protected]